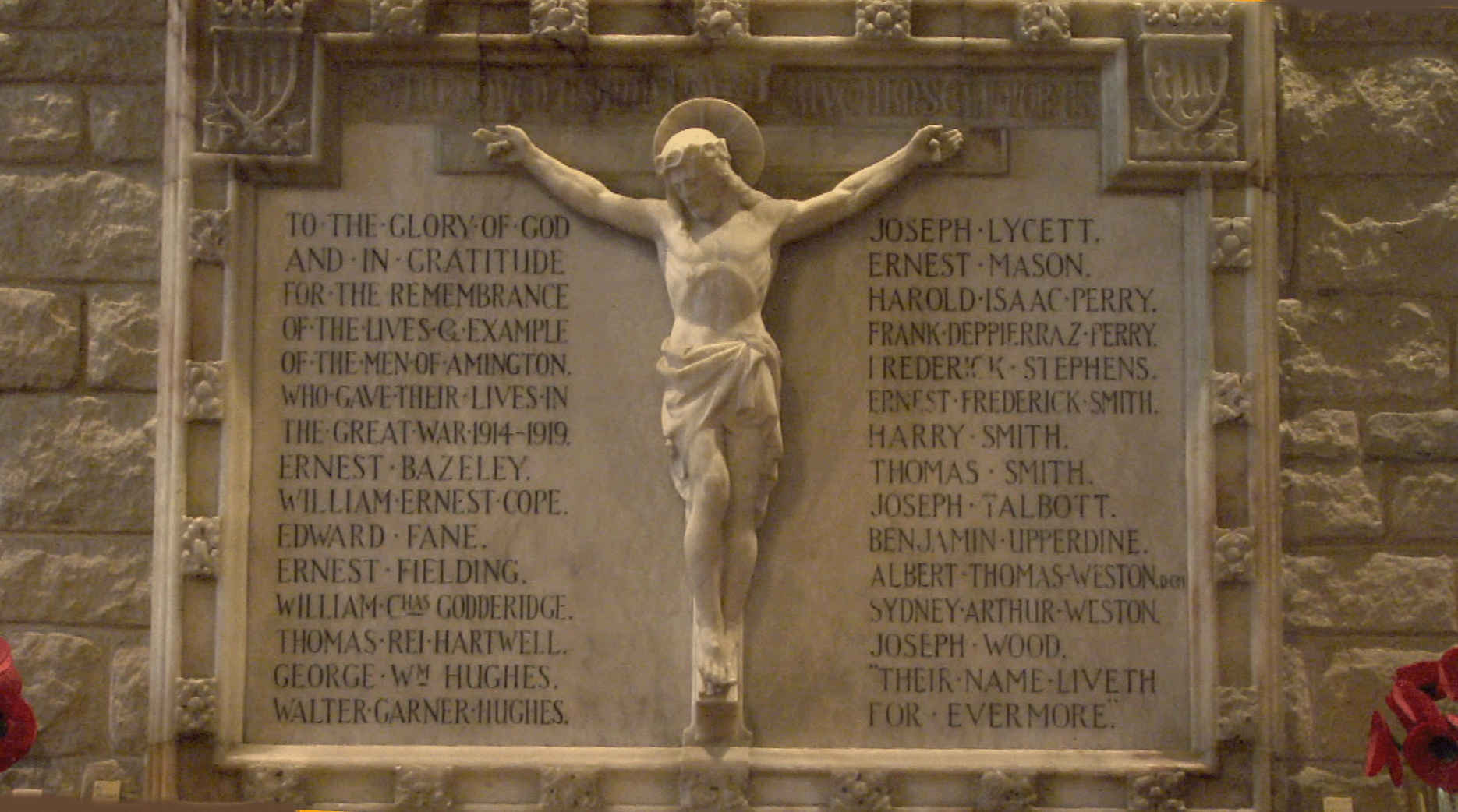 The Great War, 1914-1919
Memorial at St Editha's Church, Amington
The war memorial to the sons of Amington who made the supreme sacrifice in the Great War 1914-1919, consists of an alabaster tablet placed in the north wall of St Editha's Church, and a substantial porch that was erected at the west end of the edifice.
The alabaster tablet contains a representation of the Crucifixion in the centre, and bears the following inscription – "Who loved us and gave Himself for us. To the Glory of God and in gratitude for the remembrance of the lives & example of the men of Amington who gave their lives in the Great War, 1914-1919.
Ernest Bazeley; William Ernest Cope; Edward Fane; Ernest Fielding; William Chas Godderidge; Thomas Rei Hartwell; George Wm Hughes; Walter Garner Hughes; Joseph Lycett; Ernest Mason; Harold Isaac Perry; Frank Deppierraz Perry; Frederick Stephens; Ernest Frederick Smith; Harry Smith; Thomas Smith; Joseph Talbott; Benjamin Upperdine; Albert Thomas Weston DCM; Sydney Arthur Weston; Joseph Wood. Their name liveth for evermore."
The porch is made of Hollington stone and English oak. Messrs Bridgeman of Lichfield, supplied and built both the alabaster tablet and the porch, the architect of the porch being Mr CF Marston, Tamworth. The cost of the tablet was £65 2s 3d (£65.12) and the porch £171 19s 10d (£171.99). The Bishop of Lichfield dedicated the porch on the afternoon of Saturday 18 December 1920.
The Tamworth Herald of 25 December 1920 reported that the Vicar of Tamworth (the Rev HG Rosher), with the churchwardens of Tamworth ecclesiastical parish (Messrs JW Parker and AJ Dain) and the warden of Amington (Mr WH Sharley) walked in the procession to the porch. Mr Sharley asked the Vicar's acceptance of the gift, as representative of the church in the parish, and the Vicar placed it under the guardianship of the churchwardens, the charge being accepted by Mr Parker. The Bishop next dedicated the porch.

In the Church a memorial service for the fallen followed, the Vicar officiating. The Bishop read the lesson, and also gave an address, in the course of which his Lordship, speaking of thanksgiving, and the thankfulness that went with it, said they had much to thank God for. They thanked Him first of all for their brothers who laid down their lives; they were just a good type of the manhood of our country. They also should thank God for all that He had done for us as a nation since the war. If they compared the conditions of things in our country with any other country in Europe, we must admit that difficult as things were in England, our lot was a very happy one compared with any of the other nations. At least little children were not dying of starvation and disease here in England, and we had a hope of some sort of peace within our own country.
The service concluded with the Benediction pronounced by the Bishop.
Compiled by Bill Walton